Main content starts here, tab to start navigating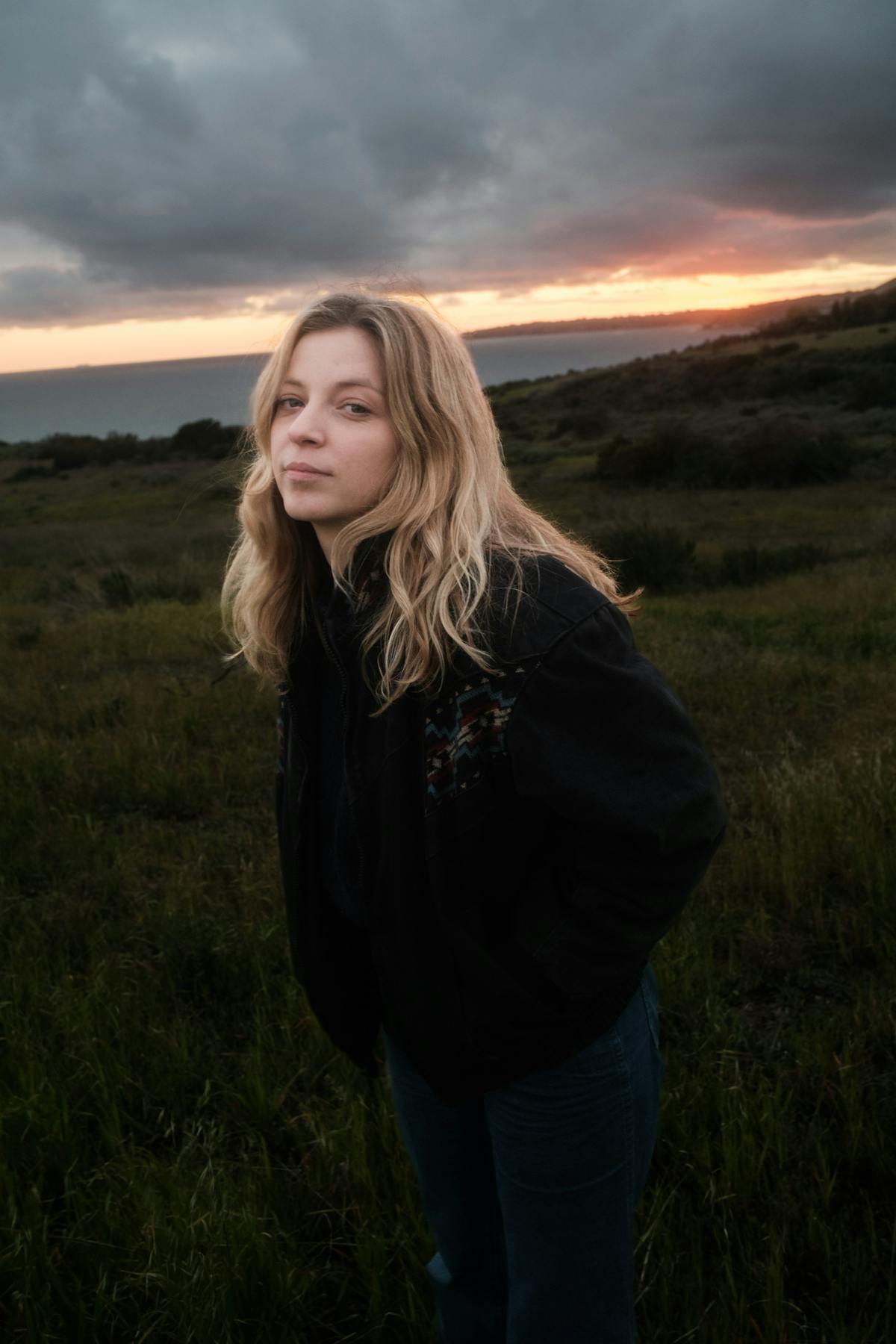 Jade Bird
"The common thread in all my music, my lyrics, my shows and my artwork is me," begins Jade Bird. "I don't feel like anybody can shift my character."
Nor should they want to. Jade channels that character — and her creativity — into music that Rolling Stone have described as "a young Londoner's spin on modern Americana" and which Jade herself calls "kind of country, kind of blues, kind of pop and kind of none of that". Either way, Jade's music is passionate, full-bodied commentary that finds this 20-year-old, "funny-on-a-good-day" songwriter singing about the vows we make to ourselves and each other: what it takes to make them, what is required to keep them and what it means to break them.
To breathe further life into her work Jade's chosen to record her debut album in Woodstock with celebrated producer Simone Felice, whose CV covers folk, alternative, roots and Americana and includes work with Bat For Lashes and The Lumineers. "I always wanted to record with a character," Jade adds, "and Simone was my first choice. I knew I'd made the right decision during my first phone call with him, when he broke off and started talking about going for walks in the woods."
While she lives in London now, Jade says it's everywhere else she's lived — and the reasons she's moved around so much — that have made her the woman she is. She was born in Hexham, up near the Scottish border, then moved to London, then Germany, and then Wales. Not unusual for someone whose parents are both in the army, but after those parents split up it was the move from Germany to Wales with her mum that made the biggest impact on Jade.
"My mum had to deal with a lot of problems, like a bad subsequent relationship that inspired a lot of my early writing," Jade accepts. "But she's a badass lady who joined the army when she was 17 and was stationed in Northern Ireland: she totally bounced back. She and my grandmother are the strongest women I know — they showed me everything I know about turning every situation on its head until you've come out out on top. Both my parents always treated me like an equal: I've never apologised for saying what I say or being who I am. Ideally, I'll inspire other young women to feel that way too."
Jade suggests that the two biggest influences on her work are "experience and idols", and while she briefly embraced her mum's penchant for Avril Lavigne and Kelly Clarkson, it was through discovering her own musical heroes that Jade was able to focus her creativity identity, somewhere in the mix of Cat Power, Mazzy Star, The Smiths, Bruce Springsteen, Neil Young and Bob Dylan.
She was also entranced by Dolly Parton's direct songwriting and fearless rise through the conservative world of country, and it was Patti Smith whose perspective on art and poetry inspired Jade to see her own career as being every element connected to her music, rather than just the songs themselves. "My main hobby is to sit down and watch other artists giving interviews on YouTube," Jade laughs, "and there's this amazing Patti Smith interview what she's talking about how Jimi Hendrix goes through 7 spiritual doors in his mind, and how her biggest goal is to go through 8. Her outlook's taught me that while songwriting is fundamental, the way you bring it to life is also important. When you're interested in people like that you feel empowered to enhance your own quirks."
Jade started gigging at 13, kicking things off with a set of dubious covers on a fairylight-draped stage at one end of a Bridgend pub, before hurling herself into competitions with her own songs along with gigs anywhere that'd take her, which involved memorable performances in nursing homes and psychiatric wards. "That period was all quite strange," she smiles now, "but it taught me everything I know today about how to hold a room." That came in useful on moving to London, when Jade started appearing at open mic nights at Camden's Spiritual Bar (whose address, 4 Ferdinand Street, she has since immortalised in Jade's song Lottery). "A lot of my blues influences came from there," she acknowledges, "but it was tough. I knew as soon as I got on stage that the owner would be shouting at me about all my 'pop shit'. It very quickly taught me that I had to grow some balls and write some bigger, better songs."
Spoiler alert: that's exactly what happened. Jade's first step was to record a load of demos in the bathroom with one of her mates — those were enough to get her management and access to a modest studio, where she recorded simple acoustic versions that, in turn, were the songs she sent to Simone Felice. But before she could get down to work, there was something she needed to address. "I had a debate with myself," she says. "And came down to one question: why am I doing this? I feel like I have an obligation with myself to be honest. And it didn't feel like I was pursuing this for money, because I don't want excess, and I only really want a roof over my head and there are loads of other ways of achieving that. Ultimately, I realised that my aim was really simple. I want people to look back on me and think I made a fucking great album."
It's a goal that makes more sense then you learn of Jade's stash of notebooks whose pages (lined, Jade insists, because everyone needs at least some sort of structure in their lives) contain the blueprints for over 600 songs: most totally unusable, Jade accepts, but with maybe 100 decent tunes here and there which, she surmises, is enough to be getting on with.
A rapidly swelling group of fans would seem to agree, particularly since the release of Jade's debut EP, Something American. "When I listen to New Music Friday I stick out like a sore thumb," Jade laughs. "It's funny when people listen to my music and they go, wow, that sounds really vintage. I'm like, don't panic — it's just the sound of real drums!"
Those real drums — and real everything else — are already striking a major chord on both sides of the Atlantic: in the US Jade's twist on Americana could easily have been a case of coals to Newcastle but she won major plaudits for her stint opening for Brent Cobb and subsequent network TV debut performing Cathedral on Stephen Colbert's show. Back on home soil, Jade's 2018 started with a bang with a place on the BBC's Sound Of 2018 longlist, and the release of 'Lottery'. "Lottery was a big one for me," she says today. "It really felt like the start of something." It's been a game changing tmoment for Jade – following a long stint on the Radio 1 playlist, Jade celebrated with a sold out show at London's Village Underground – from there she performed the track live on The Tonight Show with Jimmy Fallon and won the Grulke Prize after a smash run of shows at SXSW – all in all, she's become one of the most talked about new artists in the world.
"I'm not confident in the sense that I wake up every morning and yell 'GO ME!'," she concludes, "but I feel like with every corner I turn expectations are shattered, and I hope I'll keep surprising people along the way. It feels like with every step forwards I'm getting a little bit further towards the destination of being able to call myself an artist."
February 2018